Innovator of the Year Award
The Edlich-Henderson Innovator of the Year Award
The highest honor bestowed on University of Virginia innovators, the Edlich-Henderson Innovator of the Year award recognizes an individual or team each year whose research discovery is making a major impact.
Named for the late UVA Professor Emeritus Dr. Richard F. Edlich (1939-2013) and Christopher J. ("Goose") Henderson, a 35-year financial industry veteran with experience in strategic planning, risk management, sales, marketing, and business development, the award is a tribute to their enduring support of and commitment to the University and its innovators.
2021 Innovator of the Year: Amy J. Mathers, M.D.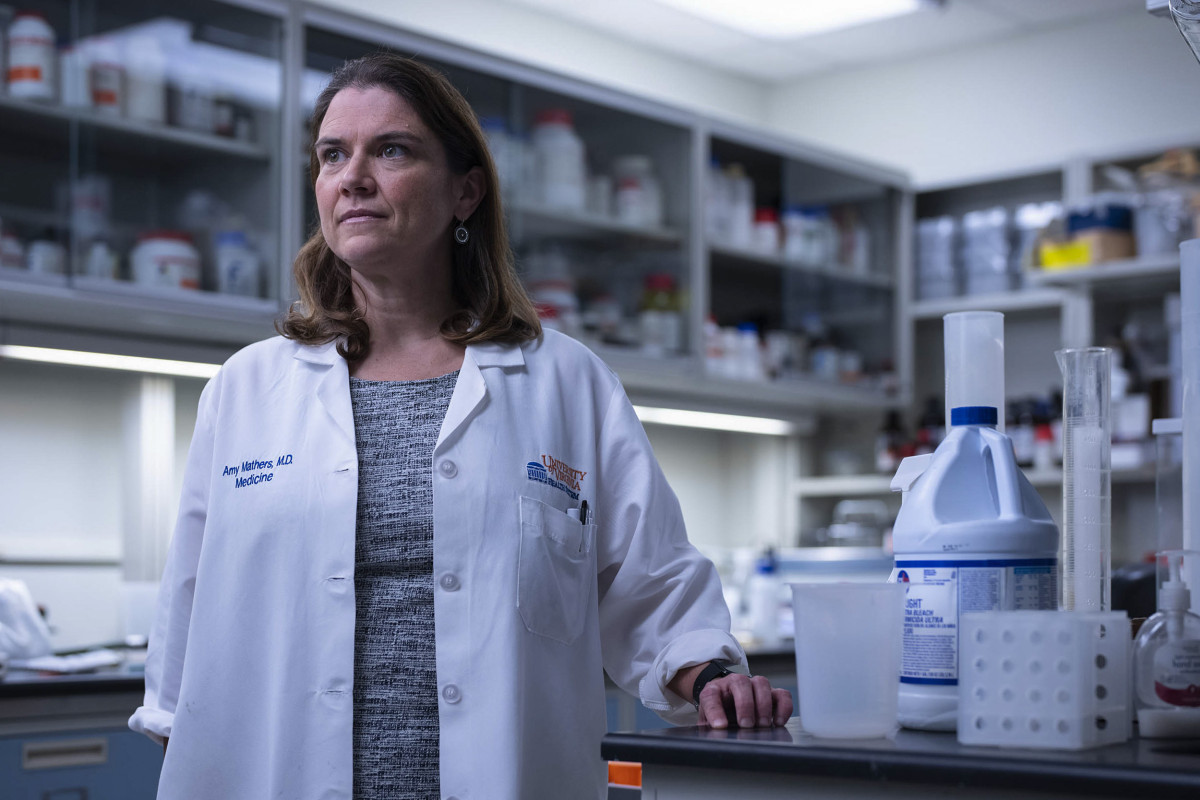 The University of Virginia Licensing & Ventures Group honors Amy Mathers, M.D., as the 2021 Edlich-Henderson Innovator of the Year for her heroic efforts to rapidly create in-house testing at UVA during the onset of COVID-19, and for developing wastewater testing solutions that allowed the University to welcome students back to Grounds for the 2020-2021 school year.
Amy Mathers, M.D., associate director of clinical microbiology and associate professor of medicine and pathology at UVA, is an expert in tracking antibiotic-resistant bacteria. Her research has advanced the understanding of where antibiotic-resistant pathogens originate and how they spread in even the most sterile places like hospitals. She investigates the role that plumbing environments can play in bacteria transmission. With collaborators from the UVA School of Engineering and Applied Sciences, Dr. Mathers created the UVA Sink Lab to study the spread of drug-resistant bacteria from wastewater systems.
In spring 2020, when students were completing the school year online, Dr. Mathers redirected her Sink Lab research to design a system to test the wastewater on Grounds for specific RNA remnants of COVID-19. She worked with her team and the Department of Energy and Utilities to set up testing sites near student dormitories and found they could identify early signals of potential infection. The accuracy of their testing informed when to isolate newly infected persons before a potential outbreak, and allowed the University to safely welcome students back to Charlottesville for the fall semester.
Past Honorees
2019: Lee Ritterband, Ph.D.
2018: W. Jeffrey Elias, M.D.
2017: Brooks H. Pate, Ph.D.
2016: John A. Hossack, Ph.D., N. Scott Barker, Ph.D., Arthur W. Lichtenberger, Ph.D., Robert M. Weikle II, Ph.D.
2012: Robin A. Felder, Ph.D.
2007: Wladek Minor, Ph.D.
2006: George T. Gillies, Ph.D.
2005: Benjamin M. Gaston, M.D., John F. Hunt, Ph.D.
2004: Haydn N.G. Wadley, Ph.D.
2003: William A. Petri Jr., M.D., Ph.D., Barbara J. Mann, Ph.D.
2002: Joel M. Linden, Ph.D.
2001: Doris Kuhlmann-Wilsdorf, Ph.D.
2000: Ronald P. Taylor, Ph.D.
1999: John C. Herr, Ph.D.
1997: Richard L. Guerrant, M.D., Timothy L. Macdonald, Ph.D.
1996: Jessica J. Brand, Patrice G. Guyenet, Ph.D., Richard D. Pearson, M.D., Janine C. Jagger, Ph.D.
1995: Donald F. Hunt, Ph.D., Jeffrey Shabanowitz, Ph.D., George C. Stafford Jr., Ph.D.
1994: Gerald L. Mandell, M.D., Gail W. Sullivan
1993: Joseph Larner, M.D., Ph.D.
1992: Robert M. Berne, M.D., Luiz Belardinelli, M.D., Rafael Rubio, Ph.D.