LVG News
Richard Chylla Named Executive Director
Former executive director of Michigan State University Technologies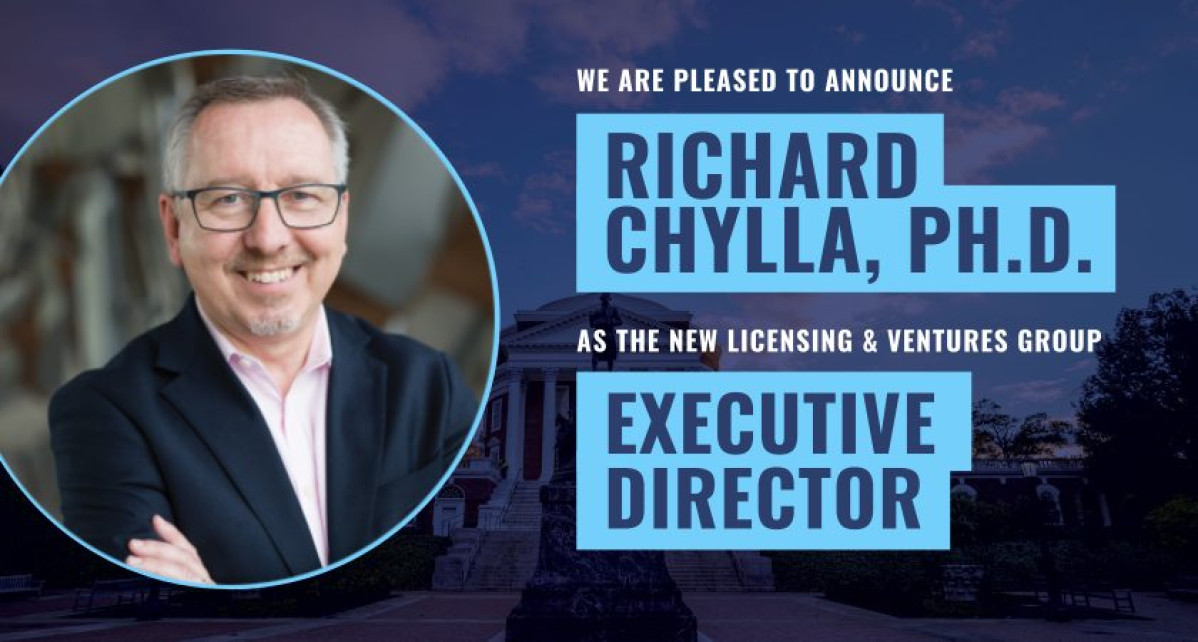 Richard Chylla, Ph.D., Executive Director of Michigan State University Technologies, has been named Executive Director of the University of Virginia Licensing & Ventures Group (UVA LVG) effective January 24, 2022.
Chylla was hired following a national search conducted by the University's Executive Search Group and will succeed Interim Executive Director Bob Creeden, who has held the role since June 2021. Creeden will continue in his role as Managing Director of the LVG Seed Fund.
Chylla comes to the University of Virginia from the Innovation Center at Michigan State University where he served as Executive Director of MSU Technologies since 2012. He also served on the board of directors for the Association of University Technology Managers (AUTM) and held the AUTM chair position in 2019. He has more than 25 years of experience in university technology transfer, research leadership, and business development.
"As we continue to grow as a research institution, we must also strengthen our processes and industry partnerships to ensure UVA discoveries enrich and improve lives," said Melur K. Ramasubramanian, UVA Vice President for Research, whose office oversees UVA LVG. "Richard Chylla's deep experience and technical expertise across all facets of research commercialization make him an ideal fit to lead the successful Licensing & Ventures Group and broaden the impact of the UVA innovation ecosystem."
Chylla has extensive experience in licensing and technology commercialization in both academic and industry settings. He has amassed career accomplishments with top-tier organizations including the University of Michigan and BASF Corporation. He also has broad international experience having worked in various technical roles with Johnson Polymer in Singapore, Japan, and the Netherlands.
"I am thrilled to join the University of Virginia and to support its growing research enterprise," said Chylla. "The Licensing & Ventures Group is a highly efficient office known for quality transactions, and I hope to maintain and leverage its momentum to strengthen the University's position as an economic driver for the state."
UVA LVG is the intellectual property management and innovation commercialization organization for the University's research portfolio. In the most recent fiscal year, the organization received 172 invention disclosures, executed a record 92 licensing transactions, prosecuted 44 U.S. patents to issuance, launched four new ventures, and invested $1.59M in six companies from the UVA LVG Seed Fund.
At Michigan State, Chylla was instrumental in launching two translational funds totaling $7M since 2014 in partnership with economic development agencies that supported more than 160 projects to advance university technologies generating licenses with industry, new venture creation, and jobs. He doubled the number of licenses and options since 2013, grew the total licensing revenue, and strengthened relations between the university and the local entrepreneurial community. MSU Technologies grew the number of university startups launched each year and attracted more than $100M in follow-on capital.
Chylla holds a Ph.D. and B.S. in Chemical Engineering from the Illinois Institute of Technology and an Executive MBA in Global Management Development from the University of Michigan.