Edlich-Henderson Innovator of the Year Award
UVA'S 2020 INNOVATORS OF THE YEAR CREATE GROUNDBREAKING HIV TREATMENT APP
Dr. Rebecca Dillingham displays the PositiveLinks app on her smartphone. (Photos by Dan Addison, University Communications)
Author: Jane Kelly, jak4g@virginia.edu
-
Kelly Kendrick was studying to become a licensed esthetician in Charlottesville when he was diagnosed with HIV, the virus that causes AIDS.
Speaking on the phone from his new home in Ohio six years later, Kendrick still remembers how he felt when he got the news six years ago.
"Horrible," he said. "I felt pretty much alone."
But Kendrick said those feelings slowly melted away when he began receiving treatment at the University of Virginia's Ryan White HIV Clinic. Today, he is healthy and has his HIV in check – thanks to some critical information he received during his first appointment at the clinic.
Kendrick was introduced to a novel UVA-created smartphone app called PositiveLinks, which is put directly into the hands of patients to help track their medical care as well as their mood and stress levels. The technology, which also has a provider-facing function, has led to dramatic improvements in the care outcomes for UVA patients just like Kendrick – so much so that it is now being used across Virginia and in other parts of the world.
The creators of the app, Dr. Rebecca Dillingham and Karen Ingersoll, who holds a doctorate in clinical psychology, are the recipients of this year's Edlich-Henderson Innovator of the Year award. Bestowed by the UVA Licensing & Ventures Group, the endowed award recognizes University faculty members or a team of faculty researchers whose work is making a major impact on society.
Dillingham and Ingersoll said PositiveLinks helps people living with HIV to be engaged in their care by keeping them connected to their clinic and doctors, as well as with a community of people who are living with the disease. They said that's important in a world in which the Centers for Disease Control and Prevention says only 49% of HIV-positive people in the U.S. are engaged in care.
"When people remain engaged in HIV care, they typically achieve viral suppression," Ingersoll said. "Their own health is protected and they can live a normal lifespan. Additionally, once a person achieves and maintains viral suppression, they are unable to transmit the virus to others. That could lead us to see the end of AIDS, which is a goal worldwide."  
In fact, Ingersoll, who is a psychologist in the Ryan White Clinic, pointed to a Centers for Disease Control and Prevention metric that shows patients who entered care quickly after an HIV diagnosis and remained in care across their lifetime saw the largest rates of viral suppression.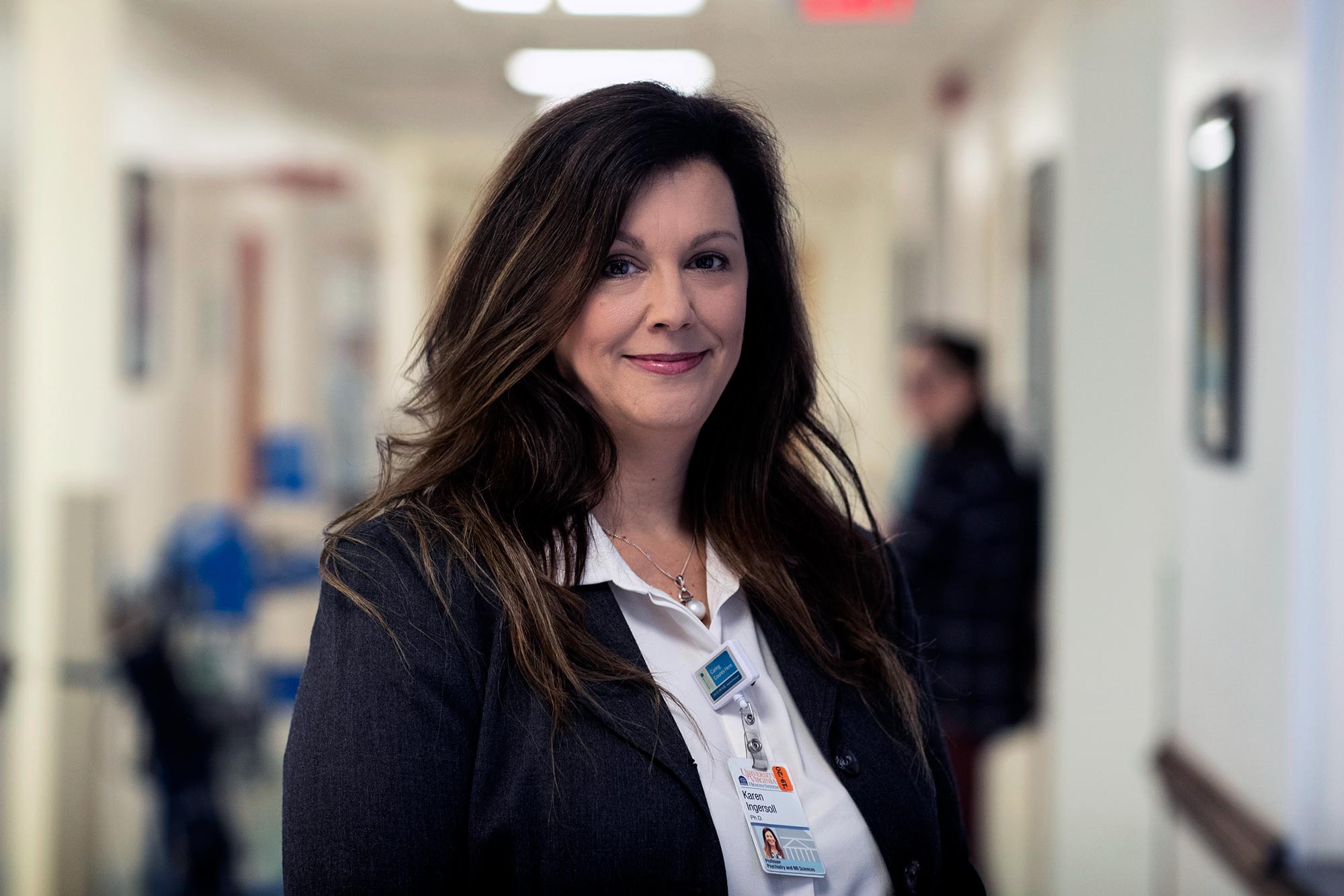 Karen Ingersoll is co-creator of PositiveLinks and said one of its greatest strengths is keeping patients engaged in their health care.
"Our own studies have shown that PositiveLinks moved the needle on the two key metrics of retention in care and viral suppression," she said. In their study of the impact of PositiveLinks on 77 patients with 12 months of follow-up, Dillingham, Ingersoll and their team found that participants' achievement of a retention-in-care benchmark increased from 51% at baseline to 88% at six months and 81% at 12 months. Additionally, the percentage of participants with suppressed viral loads increased from 47% at baseline to 87% at six months and 79% at 12 months.
Patients Help Refine PositiveLinks, Get Direct Contact with Care Providers
Dillingham and Ingersoll said their patients helped them develop and test PositiveLinks, which built on their experiences developing text-message-based interventions. Initially, Ingersoll said patients reported feelings of isolation, under the mistaken belief that they did not know anyone else living with HIV. This led the team to create an anonymous community messaging board as part of PositiveLinks.
"We felt it was important to give patients a safe space to talk with other people going through the same things they were. And actually, that's become our most-used and popular feature," she said.
Because the app complies with the confidentiality provisions of the Health Insurance Portability and Accountability Act, or HIPAA, patients can also send secure messages to health care providers who work in the clinic, be they infectious diseases doctors like Dillingham, nurses or community health workers. Most of these providers are using the PositiveLinks platform, either on a "provider app" or a web-based portal, enabling them to respond to patient messages or to send patients secure messages.
"It looks and feels like texting, but it's within the app, so it is secure," Ingersoll said.
"When people remain engaged in HIV care, they typically achieve viral suppression. Their own health is protected, and they can live a normal lifespan." - POSITIVELINKS CO-CREATOR KAREN INGERSOLL
A newer feature enables patients to directly upload important documents that help them confirm eligibility for Ryan White health care benefits, a Health Resources & Services Administration program for lower-income patients. The benefits fund not only basic HIV care, but things like mental health and substance abuse services. All of the features on the app are designed to help patients remain engaged and linked to health care for their lifetimes.
PositiveLinks Spreads Across the Country and Beyond
In 2018, the UVA Licensing & Ventures Group launched Warm Health Technology with support from the UVA Health System and licensed the PositiveLinks software to disseminate the mobile platform to clinics around the country. In addition to clinics in Virginia, PositiveLinks is also being used in Greenville, South Carolina, through Warm Health Technology.
Launching the company also enabled access to additional resources to support further development of the app. Thanks to a grant from the Elton John AIDS Foundation, Warm Health has been able to provide a version of the app to more than 1,000 patients in Irkutsk, Russia, as well. The Virginia Department of Health is supporting a Spanish language adaptation of the app.
"What we find so compelling about this technology, and the reason we decided to fund Warm Health Technology, is that it serves as a force multiplier for UVA clinicians," Jeff Keller, chief innovation officer for the UVA Health System, said. "Many Virginians using the app lack access to even basic care; PositiveLinks allows them to have daily touchpoints with the deep clinical expertise of our specialist physicians and nursing staff here at UVA.
"This technology could be a major piece of the puzzle in reversing the alarming growth in HIV infections nationally."
PositiveLinks' reach is also being felt internationally. "We are fortunate to have a cohort in Uganda, where we're working with colleagues to improve support for people living with HIV who also have hypertension," Dillingham said. "In addition, we partnered with a clinic in rural South Africa to create a language and cultural adaptation for communities that speak the IsiZulu language. So, we now have English, Spanish, Russian and IsiZulu versions for testing and use."
And the growth isn't stopping. Dillingham and Ingersoll just received a National Institutes of Health grant with their colleague Dr. Barbara Taylor, who works at the University of Texas-San Antonio Long School of Medicine, to modify and test PositiveLinks for Latinx adolescents and young adults living with HIV.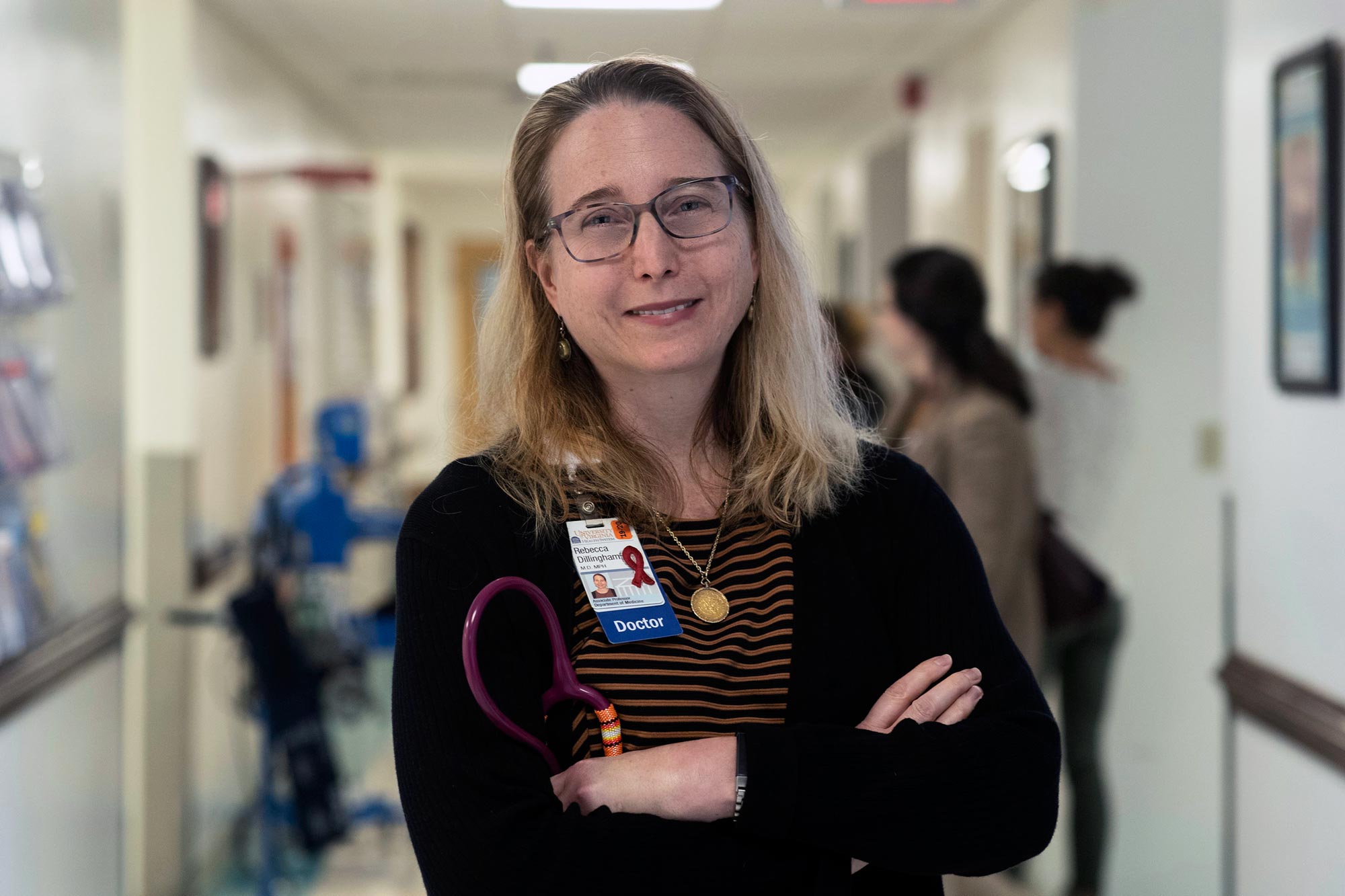 Dr. Rebecca Dillingham, who created the app with Karen Ingersoll, said one of its greatest strengths is its adaptability to different languages and cultures.
"We also have a collaboration with colleagues in Colorado to explore how PositiveLinks can support adolescents in transition from pediatric to adult care, and women who are living with HIV and pregnant, as they transition from specialty care back to their usual care following delivery," Dillingham said.
The need for support systems like PositiveLinks is only going to continue to grow in the United States; thousands of new HIV infections are reported each year.
"Unfortunately, the incidence in terms of the number of new infections – speaking only about the United States here – is stable, which is a bad thing," Dillingham said.
There are between 36,000 and 39,000 new cases a year, and about 1.2 to 1.3 million people are living with HIV in the U.S. right now.
"We have a real opportunity to end the epidemic with the tools that we have right now, which include effective prevention methods like 'PrEP,' which is preexposure prophylaxis – medication that can be taken to prevent acquisition of HIV," Dillingham said. "Just as importantly, if people are truly engaged with HIV care, the medication and wrap-around services available can restore the immune system and a full, healthy life, making it impossible to transmit the infection."
Virginia Department of Health Is Clutch Player for PositiveLinks
Having access to a smartphone is key, which is why the Virginia Department of Health agreed to support phone access for those who could not afford it otherwise. Dillingham said that while an app on a smartphone might seem like a luxury, it is an essential component to accessing health care. Having a smartphone, often the only way low-income populations access the internet, helps break down structural barriers like securing housing and applying for jobs.
PositiveLinks also provides information about food and mental health resources in the community.
"Where we are with PositiveLinks could never have been achieved without the ongoing and visionary support of the Virginia Department of Health," Ingersoll said. "Early on, Virginia Department of Health leaders in HIV Care Services recognized the potential of PositiveLinks and the potential for it to really help provide care and reduce transmission across our commonwealth."
"Many Virginians using the app lack access to even basic care; PositiveLinks allows them to have daily touchpoints with the deep clinical expertise of our specialist physicians and nursing staff here at UVA." - JEFF KELLER, CHIEF INNOVATION OFFICER FOR THE UVA HEALTH SYSTEM
In keeping with that, the department provided supplemental funding for PositiveLinks as well as support for other clinics in Virginia to use the app.
"It's certainly not just me and Becca," Ingersoll said. "We have a large team of people and we also give credit to the patients who have been a part of every iteration of PositiveLinks, and our clinical team members who have supported the implementation of PositiveLinks."
A PositiveLinks Ambassador
Back in Ohio, Kelly Kendrick said he was already missing the team at UVA's Ryan White HIV Clinic. "When I went to the clinic, seeing the smiling faces at the clinic, Dr. Dillingham – everyone at the clinic was amazing," he said.
His new clinic does not offer PositiveLinks and Kendrick wants to change that. "I wouldn't mind being a PositiveLinks coordinator for Cleveland," he said.
"To be honest with you, before I was diagnosed, I never went to the doctor. I'd never witnessed having to be an advocate for my health until getting PositiveLinks and being diagnosed. It's opened my world and opened my eyes up, because there's so many resources, not just for HIV care, but if you're depressed. You can see other people post messages about how their day was. It's just really great!"
"We have a real opportunity to end the epidemic with the tools that we have right now." - DR. REBECCA DILLINGHAM
In announcing the 2020 Edlich-Henderson Innovators of the Year last month, Michael Straightiff, executive director of the Licensing & Ventures Group, said, "Drs. Dillingham and Ingersoll have continuously innovated their original text-messaged-based intervention for nearly a decade alongside the rise of the digital health industry."
"PositiveLinks pushes the boundaries on new-age solutions for the HIV care community and stands to significantly lower transmission rates among users of the app. This interdisciplinary research team has and will continue to enrich and improve lives with PositiveLinks, and we are thrilled to honor their accomplishments with this award."
Celebrating impact through innovation
The highest honor bestowed on University of Virginia innovators, the Edlich-Henderson Innovator of the Year award recognizes an individual or team each year whose research discovery is making a major impact.
Named for the late UVA Professor Emeritus Dr. Richard F. Edlich (1939-2013) and Christopher J. ("Goose") Henderson, a 35-year financial industry veteran with experience in strategic planning, risk management, sales, marketing and business development, the award is a tribute to their enduring support of and commitment to the University and its innovators.
In 2012, the award title and criteria were modified to be more inclusive of University innovators pursuing a variety of different paths to achieve impact for their discoveries. Eligible nominees are current University of Virginia faculty, staff or students whose research discoveries are making a major impact. Prior to 2012, the award was known as the Edlich-Henderson Inventor of the Year award. Award winners receive a $10,000 cash prize and formal recognition at a special awards reception.
Past honorees:
2016         John A. Hossack, Ph.D.               N. Scott Barker, Ph.D.               Arthur W. Lichtenberger, Ph.D.               Robert M. Weikle II, Ph.D.
2015         Benton H. Calhoun, Ph.D.                  James A. Smith, Ph.D.
2014         J. Randall Moorman, M.D.                  Douglas E. Lake, Ph.D.
2013         Marcia A. Invernizzi, Ph.D.
2011         Boris P. Kovatchev, Ph.D.
2010         Kevin R. Lynch, Ph.D.                  Timothy L. Macdonald, Ph.D.
2009         John P. Mugler, Ph.D.                  James R. Brookeman, Ph.D.
2008         George T. Rodeheaver, Ph.D.
2007         Wladek Minor, Ph.D.
2005         Benjamin M. Gaston, M.D.                 John F. Hunt, Ph.D.
2004         Haydn N.G. Wadley, Ph.D.
2003         William A. Petri Jr., M.D., Ph.D.                  Barbara J. Mann, Ph.D.
2002         Joel M. Linden, Ph.D.
2001         Doris Kuhlmann-Wilsdorf, Ph.D.
2000         Ronald P. Taylor, Ph.D.
1999         John C. Herr, Ph.D.
1997         Richard L. Guerrant, M.D.                 Timothy L. Macdonald, Ph.D.
1996        Jessica J. Brand                 Patrice G. Guyenet, Ph.D.                 Richard D. Pearson, M.D.                 Janine C. Jagger, Ph.D.
1995        Donald F. Hunt, Ph.D.                 Jeffrey Shabanowitz, Ph.D.                 George C. Stafford Jr., Ph.D
1994        Gerald L. Mandell, M.D.                 Gail W. Sullivan
1993       Joseph Larner, M.D., Ph.D.
1992       Robert M. Berne, M.D.                Luiz Belardinelli, M.D.                Rafael Rubio, Ph.D. 
EXTRA SHUT-EYE: 2019 INNOVATOR OF THE YEAR AIMS TO CURE INSOMNIA
Lee Ritterband, Jean and Ronald Butcher Eminent Scholars Professor and director of the Center for Behavioral Health & Technology, says helping people overcome severe insomnia is "incredibly gratifying." 
(Photo by Dan Addison, University Communications)
February 11, 2019 

Author: Whitelaw Reid, wdr4d@virginia.edu
A fifth-grade school teacher is at her wits' end.
Most nights it takes the woman – who is in her 40s – at least two hours to fall asleep. Almost every night, she wakes up at 3 a.m., then can't get back to sleep for another two hours.
She has tried everything she can think of – a warm bath, reading before bed, leaving the television on – to no avail. Her husband has been supportive, but now feels helpless and is starting to lose patience.
This woman exemplifies the estimated 30 million people in the U.S. suffering from chronic insomnia.
It was with this in mind that University of Virginia School of Medicine professor Lee Ritterband created SHUTi (Sleep Healthy Using the Internet) – a digital therapeutic that uses cutting-edge technology to administer cognitive behavioral therapy for people suffering from insomnia.
In more than two dozen clinical trials – many involving the likes of the fifth-grade school teacher – SHUTi has reduced insomnia severity by an amount comparable to face-to-face therapy. Studies in the U.S., Australia, Norway and Denmark have also shown that SHUTi users experience less depression, anxiety, fatigue and other co-occurring conditions.
SHUTi is just one of many digital therapeutics Ritterband and his team have created and tested. In recognition of the impact of his innovative solutions, the University of Virginia Licensing & Ventures Group has named Ritterband the 2019 Innovator of the Year.
"We are thrilled to honor Lee Ritterband for his work pioneering the integration of digital solutions for patients living with a variety of issues, including insomnia, cancer, diabetes, and substance abuse, just to name a few," says Michael Straightiff, executive director of the UVA Licensing & Ventures Group. "Ritterband sits firmly at the helm of this emerging field and his efforts to make these treatments available on a mass scale through commercialization stand to significantly reduce the overall cost of behavioral health care."
Most of the interventions created by Ritterband and his team are fully automated programs that don't require regular doctor's appointments. This allows for greater ability to scale and disseminate the programs because the only necessity is an internet connection. 
"We work hard to automate as much of the intervention as we possibly can," Ritterband said. "The minute we add a person to the mix is the minute we dramatically reduce the ability to deploy these programs on a large scale."
Of course, some disorders need an involved clinician, but Ritterband has shown that for many people, an automated program works incredibly well. SHUTi is no exception. Users log onto the web-based treatment platform through either their computer or mobile device. After creating a sleep diary and answering a number of questions pertaining to their sleep habits, SHUTi's proprietary algorithms determine a patient's ideal sleep window. 
Users continue to enter their sleep diaries over time which further tailors the program to the individual users' needs. The program is also filled with content, animations, interactions and videos, all to provide the treatment in an engaging and effective way.
Initially, Ritterband said users have some rough nights as they try to adjust to the new sleep window. But in the end, if they stick with the therapy, they can break their old habits and start to get better sleep. He came up with the idea when he was doing clinical work at UVA and realized the need to make sleep therapies more widely available.
"Everything just kind of exploded from there," he said.
Ritterband's mission is to increase access to effective and affordable behavioral health care.
"It's very simple," Ritterband said. "It's basically taking what we do as clinicians and automating it and making it available for the public. The UVA Licensing & Ventures Group has been a tremendous partner in helping make that happen."
Digital therapeutics are a new subsection of digital health that aim to deliver therapies through the internet or mobile devices.
According to Joseph Jennings, who co-founded BeHealth Solutions with Ritterband and former UVA faculty member Frances Thorndike, independent researchers are predicting the global digital therapeutics market will reach $9 billion by 2025, up from about $2 billion in 2017.
Jennings said the estimated 30 million people in the U.S. suffering from chronic insomnia carries an economic burden of more than $100 billion per year.
"SHUTi is a great innovation because it provides a highly effective solution for a huge problem," Jennings said. "Very few people have access to traditional therapy because there are fewer than 700 providers of the therapy available in the U.S. to serve the 30 million insomnia sufferers, and those providers are typically concentrated in high population areas."
Ritterband, who collaborated with Thorndike on the development of SHUTi, said it's been "incredibly gratifying" to see his idea help so many people.
"I'm a clinical psychologist and one of the things I was trained to do was help people," he said. "This allowed me to do it in a much broader way. Instead of the hundreds of people we might be able to help in a clinic, we can scale these platforms to help thousands, tens of thousands – or maybe millions at some point – by making these kinds of interventions available. They're lower cost, they're more accessible, they're empirically validated."
In addition to his recent work with SHUTi, Ritterband and the Center for Behavioral Health and Technology support the development of other internet interventions including:
CARRII, to reduce alcohol-exposed pregnancy risk;
UCanPoopToo, to help families of children with encopresis;
mySmartSkin, to increase skin self-examination and sun protection behaviors among patients with melanoma;
BGATHome, to help diabetes patients recognize and anticipate extreme blood glucose fluctuations;
iSHIFTup, to prevent pressure ulcers in adults with spinal cord injury.
"We can provide treatments to people who might not otherwise be able to get them."
Ritterband said he wouldn't have been able to accomplish what he has without collaboration from his many colleagues and multi-disciplinary team at UVA, support of the School of Medicine, the Department of Psychiatry and Neurobehavioral Sciences, and strategic partners like the Licensing & Ventures Group.
"They've been amazingly supportive," he said. "I have colleagues at other places where they get 'No's' a lot. Here, I don't get that. I get, 'How can we make this work?' People are really excited about what we're doing and they want to help us find a way to do it."
The UVA Licensing & Ventures Group will celebrate Ritterband at the 2019 Innovator of the Year Award Ceremony in the Rotunda Dome Rome on Feb. 21 at 5 p.m. The event is free and open to the public, though registration is required. Register here.
2018 Edlich-Henderson Innovator of the Year 
The University of Virginia Licensing & Ventures Group (LVG) has named W. Jeffrey Elias, MD, the 2018 Edlich-Henderson Innovator of the Year, an award given to University faculty members whose research is making a major impact on society. Elias is recognized for pioneering the use of focused ultrasound to treat essential tremor, and for leading the clinical trial that resulted in Food and Drug Administration approval of the approach to treat the condition.
Dr. Jeffrey Elias saw his clinic change overnight with the advent of a new procedure to treat essential tremor. (Photo courtesy of the UVA Health System)
'INNOVATOR OF THE YEAR' PIONEERS PROCEDURE TO TREAT ESSENTIAL TREMOR

February 08, 2018 
UVA Today | Whitelaw Reid, wdr4d@virginia.edu
Millions around the world suffering from essential tremor now have a far-less-invasive option than brain surgery to treat the disorder, thanks to University of Virginia School of Medicine neurosurgeon Dr. Jeffrey Elias who has pioneered the use of focused ultrasound.
Elias pushed the technology – which eliminates the need for incision – from clinical trials to FDA approval in only five years.
Last week, the University of Virginia Licensing & Ventures Group named Elias the 2018 Edlich-Henderson Innovator of the Year.
"He has made a remarkable impact not only for his patients, but on the field of neurosurgery," the Licensing & Ventures Group's executive director, Michael Straightiff, said. "He is leading the way for innovative clinicians in translational research at UVA."
When focused ultrasound technology came to UVA in 2009, the idea was to use it in the treatment of brain tumors.
However, Elias pursued an additional application. He believed the technology could treat essential tremor, a condition that afflicts an estimated 10 million Americans.
The technology allows for a highly precise treatment that focuses sound waves within the brain to create heat, interrupting malfunctioning circuits that are responsible for the tremor symptoms. Using MRI, clinicians can monitor the procedure in real time and adjust the treatment based on the patient's response.
After starting a lab and organizing a clinical trial, the first treatment on a patient in 2011 was, according to Elias, "wildly successful."
When some 2,000 people applied for 15 spots in the next clinical trial, Elias knew he was really onto something.
"That demonstrated the interest in an incisionless procedure," Elias said.
Subsequently, Elias published an article in the New England Journal of Medicine that created buzz, along with some debate. "It was reintroducing stereotactic lesioning to a field that had kind of abandoned it," said Elias, referring to the technique that uses a coordinate system to locate small targets in the body.
But over time, Elias said there has been a paradigm shift in the approach to the treatment of movement disorders.
"The mainstream procedure had shifted to brain stimulation," Elias explained. "Stereotactic lesioning of the brain was kind of viewed as kind of a step back, or less of an advance. But the fact that we could do these precise treatments without any kind of incision, implanting any kind of device, or having any kind of real surgery, was very appealing to patients."
Elias saw his clinic change overnight. Suddenly, patients were driving their own care. "Initially, they were more interested in this procedure than their doctors," he said.
After Elias conducted a successful international study, the technology received FDA approval in July of 2016.
Today, Elias said, UVA is one of about 10 places in the United States that perform the procedure.
Elias said the development of the procedure was a team effort involving the areas of imaging, engineering, neuroscience and surgery.
"No one group could have done it," he said. "The sum of the parts way exceeded the whole.
"It really demonstrates how teams and technologies come together. It shows what you can do in medicine."
The Innovator of the Year is an award given to University faculty members whose research is making a major impact on society.
Dr. Jeff Keller, the chief innovation officer at the UVA Health System, said Elias is doing just that.
"You have to have someone with a lot of smarts, a lot of vision and a lot of persistence – like Jeff – to fit the pieces together and deliver better care for patients," said Keller, a colleague of Elias.
Elias, who will be honored Feb. 27 during a ceremony at the Rotunda, said UVA proved to be the perfect incubator.
"We had great collaborators, great support of the institution and my departments," he said. "I just didn't feel any barriers.
"This is a place where we can do big things."
2017 Edlich-Henderson Innovator of the Year
Brooks H. Pate, Ph.D.
By Katie McNally
(UVA Today)
Although he's earned many titles and honors for his advancements in molecular research, Brooks Pate sees himself first as a citizen-scientist. The University of Virginia's William R. Kenan Jr. Professor of Chemistry is committed to conducting basic research for the public good.
Pate and his research team are most known for developing a new method for rapid molecular analysis called "chirped pulse Fourier transform molecular rotational resonance." It shortened the standard time for molecular analysis from days or weeks to mere minutes. This analytical ability is opening new doors in everything from pharmaceutical research to the study of interstellar matter.
After its creation, Pate worked with the UVA Licensing & Ventures Group to license the technique to the Charlottesville start-up BrightSpec, which began developing it for wider commercial use.
In recognition of this work and his commitment to research for public benefit, the Licensing & Ventures Group named Pate the 2017 Edlich-Henderson Innovator of the Year.
"Brooks is a prolific innovator, a leader in his field and a standout entrepreneur," said Michael P. Straightiff, the group's executive director. "We are thrilled to be recognizing such an accomplished scholar and we cannot wait to hear what he will discover next."
Before the award was presented Thursday, UVA Today spoke with Pate to find out more about his research and how he views scientific research as a civic duty.
Q. What is the focus of your research?
A. The field I'm in is physical chemistry. It's about trying to make sure we quantitatively know what structures of molecules are and how those molecules react to form new molecules.
A lot of what we do is look at areas where theory is on the forefront, where they're really developing new tools to predict the behavior of molecules and matter and then look at what needs to happen in the lab to provide test data to make sure that theory is on an accurate path.
Our side of it – although I have worked a little bit on the theory side – has really been creating new scientific instruments to advance molecular measurement in larger, more complicated systems. That's always been the challenge for us – the basic science pursuit of how to advance the firm understanding of the way molecules behave.
Q. What are some examples of how that molecular measurement is used?
A. We really are focused on extending the applications of our technique towards chirality issues.
The chirality of a molecule refers to a subtle difference in geometry. For example, two chiral glucose molecules are made up of the same number of carbon, hydrogen and oxygen atoms and have the same distances and angles between these atoms, but they are structured as mirror images of each other, not exact copies. One is "left-handed" and one is "right-handed." Chemical reactions within the human body can be different depending on whether the molecule is left-handed or right-handed and that difference is important for the efficacy and safety of new drugs.
My field of physical chemistry has produced the first new approach in well over a decade to measure the handedness of molecules. We are developing technology for chiral analysis and know already that this has important applications for the development and production of pharmaceuticals.
Q. What do you believe are the largest challenges facing modern scientific research?
A. I've become concerned that not enough people understand the social contract scientists have in this country. The idea of that contract goes back to a very famous document called "Science: The Endless Frontier," commissioned by President Roosevelt and written by Vannevar Bush. It came out just after World War II and Bush's argument is that basic research builds knowledge that enables large advances in technology and spurs the creation of jobs, improves health and makes it possible to create products in less time. For that reason, he argues, it is important that the public invest in basic research. This report led to the creation of the National Science Foundation – the agency that has supported the instrument development work in my laboratory.
Pate was named 2017 Edlich-Henderson Innovator of the Year in recognition of the advances he's made in molecular analysis.
Prior to World War II, there was very little public funding of basic research. That document set out the pact to support it. Essentially that pact is, "We – the public – will pay the scientists to do the work the scientists want to do because we think it's going to have an impact on society. In exchange, when the scientists discover something, it's their responsibility as a scientist to bring that out and commercialize it." That model is really important to how we think about science, so I'm happy that my work follows this vision of basic research advancing the public good.
It's not always easy to explain to people what I do in my lab and why they should care, but this pact is why. My research has broad applications and what can come out of it are advancements like the techniques we helped uncover to create more effective pharmaceuticals.
Q. How do you bring this scientific pact into the classroom?
A. I try to make students understand that it's fine to pursue basic research – it's the most fun thing you can do if you're of that mindset of just solving problems every day – but you have to understand the contract you have with the public to get that information out in some form. That may be through education or by making sure that new innovations are brought to the public market – that involves working with places like the UVA Licensing & Ventures Group to protect intellectual property and help spur further development.
I also come from a family of public servants. My father worked for the National Security Agency, he was a career public servant, and my mother was a public school teacher. I was raised in the environment that having a job that helps your fellow citizens is a privilege and you need to do it as well as possible. So I try to pass on that mindset to my students, both at the undergraduate and graduate level.
I tell them, "Your country is investing in you now so that eventually you can help your fellow citizens and humanity more broadly."