LVG news
Getting to Know You: How Bio Convention Lays Groundwork For Future Deals
LVG Licensing Team Recounts Productive Trip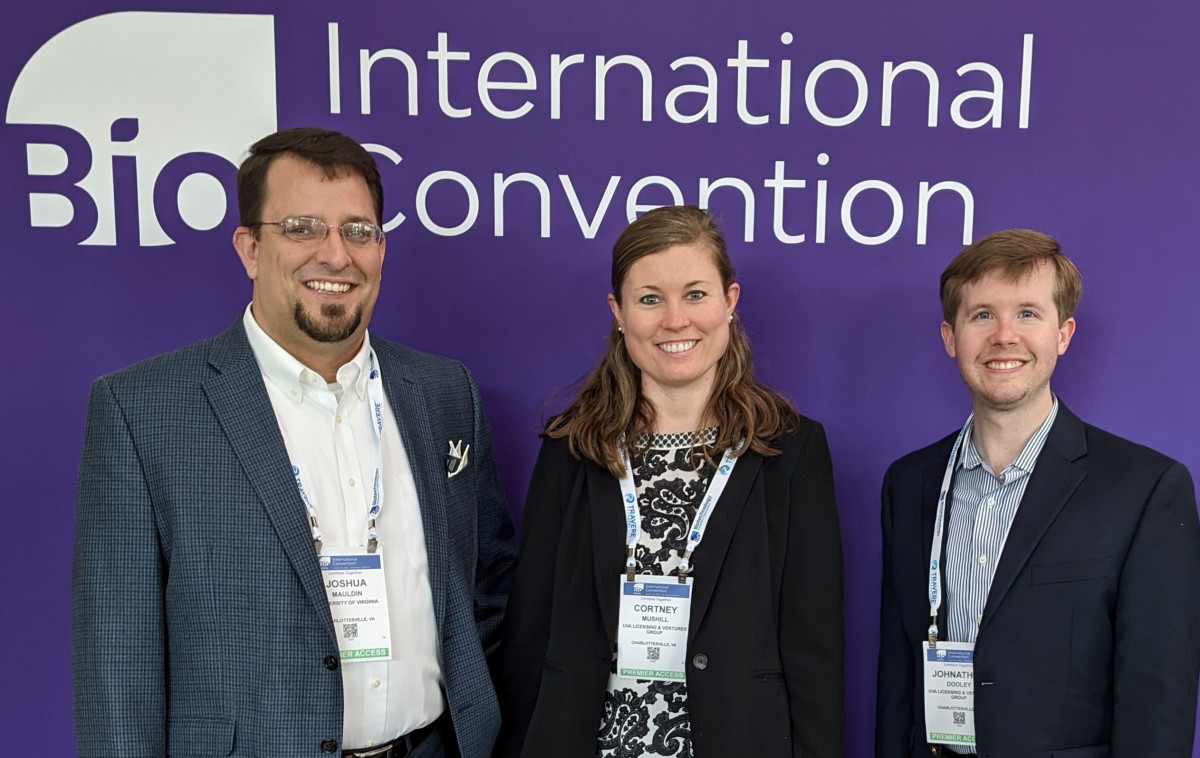 Speed dating is alive and well – just ask anybody from the tech transfer world who's ever attended the annual Bio International Convention. With dozens of meetings and countless conversations taking place over just a couple of days, the process can sometimes seem dizzying, but the end result -- just like finding a soulmate -- has the potential for a huge payoff.
Everything starts with that first "date."
"You sit down with somebody you've never met before and you exchange niceties," explained Josh Mauldin, the University of Virginia Licensing & Ventures Group's Director of Licensing. "Then you give a presentation, and afterward there will be discussions about the technology.
"It's just a general introduction to get somebody interested in what you're talking about. The goal is to leave them wanting to find out more – usually through a phone call with a research team or inventor."
Last month, Mauldin, licensing associate Cortney Mushill and licensing analyst Johnathon Dooley traveled to San Diego for the convention, which attracted more than 1,400 companies from around the world.
The LVG communications staff caught up with the team to hear about their experience.
Q. Generally speaking, why do you think a convention like this can be so valuable for what you do as a licensing agent?
CM: It's a rare opportunity to get face-to-face time with a potential partner of interest -- much better than cold-e-mailing or cold calling. In order to have the meeting scheduled, both parties have to accept the invite -- so those who attend the meeting are invested in attending and generally are ready to discuss the technology and a potential partnership between their company and our office.
JD: Finding the right partner for a technology is a challenging task. The Bio conference and their partnering system allows us to share our research assets in a searchable way. We can reach out for meetings. Companies can reach out for meetings. The result is that we are matched with a large number of individuals who want to hear about UVA's technologies. Replicating this number of face-to-face, quality interactions through our normal workflow would be incredibly difficult.
Q: Without getting into anything confidential or proprietary, can you give an example of a productive meeting you had that might lead to something substantial in the future?
CM: I had a meeting for an antimicrobial peptide technology that seemed to gain good traction. Five of my 11 meetings were for that one particular asset. It's an exciting asset to me since my graduate work and background in microbiology and immunology is in the sweet spot for the technology.
I also met with two animal health companies who were interested in the technology. Although it is typically viewed as a human health product to treat human infectious diseases, it could easily be adapted to and applied to the animal health field and animal health applications.
One of the meetings I had on the technology really impressed a company we met with. We had data that seemed to excite them enough to get them interested in next steps after the conference. They had expressed an interest in testing our peptides in house and working under a confidentiality agreement, and also discussing the technology further with the PI.
JD: This is a hard one for me to answer, because I am fairly new and might have a different sense of the follow-up. I can say that I had several meetings where the company expressed what seemed to be genuine interest in speaking with the lead investigator at UVA. They heard about the technology and wanted to really go deeper into the science. I do not think you could get a much better response from a short pitch.
JM: I wouldn't point to specific companies, but perhaps changes in trends. A couple of years ago when we took vaccine technologies to the convention, you didn't have a lot of companies working in that space. Now, because of COVID, it felt like there were more people interested in talking about vaccine technologies than in previous years.
In that same vein, we had several meetings for [UVA pediatric oncologist] Trey Lee's Car T therapies. Five years ago, Kite Pharma was about the only group that was interested in it. But since that time, Kite has had drugs approved that are Car T therapies. Because of that, you now have other companies who have their own flavors of Car T's doing it too. I probably had four or five meetings just about that one asset.
One of the things that I think is cool about the biotech industry is that it is constantly evolving – trying to improve and expand what it does.
Q. Do you sense there is a high level of respect for the work that typically comes out of UVA and LVG?
JM: We come across a fair amount of people who have some relationship to UVA. I think it is recognized as being a really good research institute.
JD: University research is inherently early-stage, and companies who are looking for the path of least resistance to market may not always be very receptive to taking on riskier ventures. However, UVA has excellent researchers, and their work commands respect no matter the stage. Those who we met with were excited about the work being done at UVA. Some of the programs might be too early for their companies at the moment, but the connections that we made there will certainly be beneficial.
CM: Usually people are very impressed by our metrics – the number of disclosures and deals that LVG does each year.
Q. Is there anything else pertaining to your experiences at this year's convention that you'd like to add?
JM: This was the first in-person conference they've had since 2019, so it was nice to be there as things are coming back to normal. It wasn't the same attendance level as 2019, but it was nice to see everyone back and reestablishing those connections.
CM: Given that the attendees of this conference are typically larger to mid-sized pharma companies -- tech transfer attendees may make up 5-10% -- it is a great opportunity to be able to go and highlight some early-stage technologies that companies might be interested in adding to their existing pipeline or branching off into a new area if they are really interested in progressing the asset. Even if the meetings do not lead to a countable, measurable "deal" or license agreement, they open doors to potential partners down the road and are people we can reach out to with things in their area of interest should they come along.
JD: As a scientist by training -- and at heart -- I know that conducting academic research is critical. "Standing on the shoulders of giants" is the metaphor often used. However, if these innovations never leave the lab or the pages of a journal article, their true benefit to the world is lost. The work that UVA LVG and other similar offices do is essential, and the Bio conference allows us to do that work a little better.